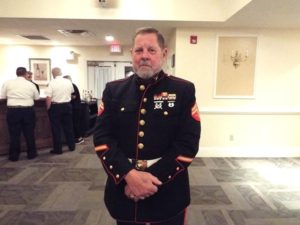 Rick Barzen has been a member of the MCL #310 for five years and is a familiar face at all league functions.  He and his wife, Karen, of 45 years have three children and seven grandchildren. A native of Pittsburgh Northside, Rick entered the USMC in 1967 and went to Parris Island for boot camp.  Upon completion, he was transferred to Camp Pendleton, California, where he trained in recoilless rifles, flame throwers and rocket launchers.  He spent a couple months in Okinawa training in jungle warfare and shipped to Viet Nam as a rifleman; he was honorably discharged in 1970.
Rick spends many personal hours a week visiting the residents at the VA Hospital in Aspinwall and is a regular volunteer at the MCL #310 sponsored bingo at the VA.  For many years, Rick was a volunteer for the bowling and softball special Olympics.  He also sponsored a dart league for the special Olympics.  Rick participates in all the league functions including color guard, parades, rose campaign, various events at the VA and the first to volunteer when needed.  Rick has accepted the position of Quarter Master for the Three Rivers Detachment and will be working with Ed Barron, Jr. to make the transition.
Rick and Karen live near their grandchildren and he finds this to be the joy of his life. He spends time nearly every day with the kids playing catch, fishing, hiking or just hanging out.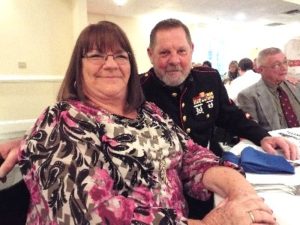 As with tradition, former recipients of the prestigious Marine of the Year award that were in attendance, gather to greet the new inductee; however, this year it was done electronically via Skype as Rick and Karen were on vacation in Myrtle Beach.  Karen tactfully kept the secret and made the presentation of the plaque while all in attendance in Pittsburgh sent a hardy "hoo-rah'.