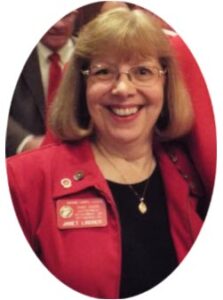 Janet Lindner is currently the recording secretary for the Three Rivers Leatherneck Detachment 310 and has held this position for many years.  Her interest in the Detachment stemmed from her father, the late George Lindner, Jr. who served as Chaplain and Newsletter Editor.
Janet is an energetic, talented and extremely organized individual.  She has received many accolades from various community organizations for her dedication and endless hours of volunteer services, including the recipient of the first Associate Marine of the Year award for Detachment 310 and the prestigious Chapel of the Four Chaplains award.  Janet also chairs the Chapel of the Four Chaplains program for our detachment.  She is very active in her parish, St. Teresa of Avila Catholic Church, with organizing and working the several events they hold during the year as well as daily and weekly programs.
A favorite pastime is shopping for Christmas presents for the North Hills Community Outreach program and The Genesis of Pittsburgh.  Her creative talents reflect on the hundreds of Chinese auction baskets she has made over the years for the various organizations and for our MCL golf outing and pasta dinner fund raisers in addition to organizing and working these two huge fund raisers.
Two years ago, upon being asked to take on additional responsibilities for the detachment as Adjutant/Paymaster, she stepped up.  She will remain as recording secretary for the detachment but is retiring from the Adjutant/Paymaster position as her responsibilities and demands on her time outside our league has expanded.  Her talents to organize the Adjutant/Paymaster office during her tenure is greatly appreciated.
Thank you, Janet.  You are one in a million and we are so grateful to have you in our detachment.