Since joining Three Rivers Leathernecks Bill and Nancy McClements have been very active in the various functions of our MCL and were always accompanied by Winston. He was a French Bulldog with a mild and friendly temperament which attracted most people. Parades were a highlight as Winston proudly walked the entire parade route with league members to the joy of the kids sitting curbside. Last year, however, Sgt. Winston rode in the Duckie vehicle with Nancy. His failing health saddened us because in our hearts he was very much a special member of our league.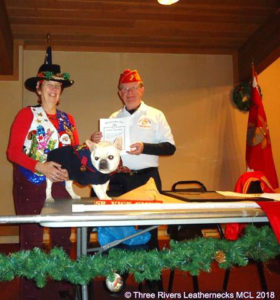 Winston passed away
on July 11, 2018
at the age of 15
Meet Our New Mascot – Iwo Jima McClements
Born June 10, 2018, this coal black French Bulldog cutie is full of life. He's been with Bill and Nancy for a couple months and is currently in a six-month boot camp training program for proper behavior in parades and social events. Unlike the English Bulldogs who weigh in at 40+ pounds, the French dogs are much smaller. The dog's name, Iwo Jima fondly nick named 'Iwo' was Bill's choice. Bill wanted an association to the military, especially the Marines. Never without a dog, the McClements had an American Eskimo dog named Sergeant prior to Winston. Bill and Nancy currently live in Murrysville. There are five grandkids who are ecstatic about the new family member. We got our first introduction to Iwo at the MCL picnic in September. We hope to see them all at upcoming events for the league.