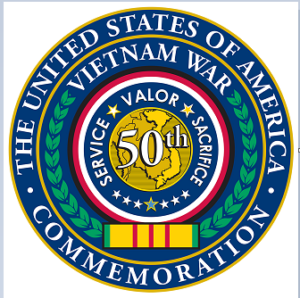 The United States of America Vietnam War Commemoration honors all United States veterans who served on active duty in the U.S. Armed Forces from November 1, 1955 to May 15, 1975, regardless of location.  Across the Nation, a generation of warriors and their families are being publicly thanked and honored for their service and sacrifice during the Vietnam War. 
The National Cemetery of the Alleghenies will hold a Vietnam War Veteran Commemoration Ceremony on Friday, March 27, 2020 at 9:00am.  We would like to publicly thank and honor all those who served during the Vietnam War.  The ceremony will be held at the assembly area across from the Public Information Center. 
If you served on active duty any time between November 1, 1955 and May 15, 1975, you are eligible to be presented with an official Vietnam Veteran Lapel Pin. This "lasting memento of the Nation's thanks" is now proudly worn by more than 2 million previously unheralded patriots!
If you or someone you know served during the Vietnam War and was not recognized, please pass this information to them so we can thank them for their service.