Each year a candidate or candidates are nominated for outstanding community service.  This award was established from the heroic action of four chaplains. The Four Chaplains, also sometimes referred to as the "Immortal Chaplains" or the "Dorchester Chaplains", were four United States Army chaplains who gave their lives to save other civilian and military personnel as the troop ship SS Dorchester sank on February 3, 1943, during World War II. They helped other soldiers board lifeboats and gave up their own life jackets when the supply ran out.  They joined arms and prayed together as they went down with the ship.
During the Marines birthday dinner held on Sunday, November 6th, Janet Lindner, Chairman of The Chapel of Four Chaplains for our league, presented to Rick Barzen, George Coppola and Mark Callahan this most prestigious award; in addition, Commandant Matt Popovich presented a special Distinguished Citizen Award to Shane Callahan.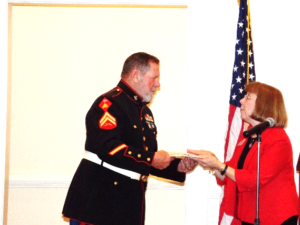 Bernard (Rick) Barzen has been a member of the MCL #310 for five years and is a familiar face at all league functions.  He and his wife, Karen, of 45 years have three children and seven grandchildren. A native of Pittsburgh Northside, Rick entered the USMC in 1967 and went to Parris Island for boot camp.  Upon completion, he was transferred to Camp Pendleton, California, where he trained in recoilless rifles, flame throwers and rocket launchers.  He spent a couple months in Okinawa training in jungle warfare and shipped to Viet Nam as a rifleman; he was honorable discharged in 1970.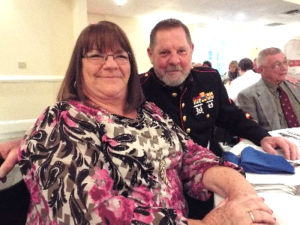 Rick spends many personal hours a week visiting the residents at the VA Hospital in Aspinwal and is a regular volunteer at the MCL #310 sponsored bingo at the VA.  For many years, Rick was a volunteer for the bowling and softball special Olympics.  He also sponsored a dart league for the special Olympics.  Rick participates in all the league functions including color guard, parades, rose campaign, various events at the VA and the first to volunteer when needed.  Rick has accepted the position of Quarter Master for the Three Rivers Detachment and will be working with Ed Barron, Jr. to make the transition. Rick and Karen live near their grandchildren and he finds this to be the joy of his life. He spends time nearly every day with the kids playing catch, fishing, hiking or just hanging out.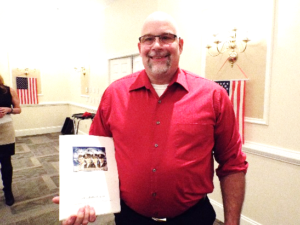 Mark Callahan is President of Veterans Plumbing Supplies and a member of Three Rivers Detachment.  One of his personal missions is to give back.  On a regular basis, Mark and his son, Shane, provide hours of service and many times materials free of charge to veterans in need.  Mark is setting an unselfish explain for not only his son, but for all of us.  He does honor to the Corps and his fellow veterans.
Shane Callahan is the 20-year-old son of Mark Callahan, current recipient of The Chapel of Four Chaplains Award and is also president of Veterans Plumbing Supplies. Shane is following in his father's footsteps in providing labor and materials to veterans in need at no cost. Commandant Matt Popovich presented Shane with the Distinguished Citizens Award for his service.  He is part of a dedicated father/son team and one we all are proud and grateful.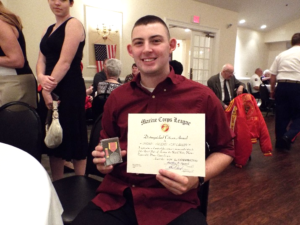 George Coppola (not pictured) is a Viet Nam veteran who served in the Coast Guard.  He is an associate member of Three Rivers Detachment and involved in the Purple Heart Association, VFW, American Legion and totally dedicated to helping veterans.  In 2013, George established the 'No Vet Dies Alone' program.  This program was implemented in 2013 and is designed to assist veterans dying who may not have loved ones or family to be with in their last 24 hours.  This program is still very active; however, the name has been changed to 'End of Life' which now includes hospice.  These are very special and dedicated volunteers as they can be called any time of the day or night.   George is also a certified officer for the VA which means he works with the vets coming back to complete and process all paperwork for benefits that they may not know they are entitled or just discouraged with the difficult processing.   He is an advocate for veterans and sets an example not surpassed by many.