October 27, 1929 – July 15, 2020
Of Pittsburgh, Pennsylvania, passed away on Wednesday, July 15, 2020, after reaching the age of 90 years old.
Bob was one of nine siblings, born on October 27, 1929, in Pittsburgh, PA, to Samuel and Catherine Abbate, later changed to Abbott.
As a very young man he had to learn how to work hard and to take on whatever job was available to support himself and his family.
In 1952, he married the love of his life, Alice Stolar. They had four children together, Robert (Stacey), Dino (Julia), Belinda Waters (Dave), and Melissa. Bob was also blessed with having 10 grandchildren and nine great-grandchildren.
He was an early entrepreneur and ran his own "small business", where he specialized in beautifully designed and crafted ornamental iron.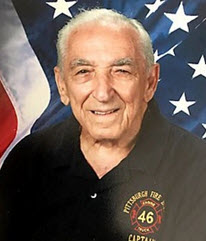 Bob also was a dedicated City of Pittsburgh Firefighter for 38 years. His hard work and dedication for the job allowed him to climb the ranks to Fire Captain.
He retired in 1992, and made it his passion to serve and help others. Bob and his wife, Alice, volunteered for nearly 60 years with the Catholic War Vets.
He also worked together with Local No. 1 Fire as a clown, "Bobby Blaze", to help raise money for children with special needs.
In addition, he was the president of Sharing and Caring, an organization that helps injured and disabled veterans.
Bob organized and ran their yearly golf outing and veteran boat ride on the Gateway Clipper Fleet for over 15 years.
He was a member of Dallas Lodge No. 231 F. & A.M. He not only served others, he also served our country as a Marine in the Korean War.
Bob was a strong, proud and good man. He is loved and will be missed by many.
Friends welcome SUNDAY 2-8 p.m., at WILLIAM SLATER II FUNERAL SERVICE, (412-563-2800), 1650 Greentree Rd., Scott Twp. 15220.
Mass of Christian Burial, 10:00 a.m., MONDAY, in S.S. Simon & Jude Church.
Due to the ongoing Covid-19 pandemic, we are following the PA/CDC guidelines on the use of facial masks and social distancing.
In lieu of flowers, donations suggested to the Christopher Conway Firefighter Fund at https://www.gofundme.com/f/fire-fighter-christopher-conway-memorial-fund
www.slaterfuneral.com
Published on July 17, 2020