Daniel Oyefusi of the Baltimore Sun reported that Coast Guard set Francis Scott Key buoy in Baltimore for 40th year, commemorating birthplace of national anthem on June 15th.
"Our crew is proud to carry on this annual Coast Guard tradition in commissioning the Francis Scott Key Memorial Buoy," Lt. Justin Strassfield, commanding officer of the James Rankin, said in a news release. "The operation allows us to reflect on the distinctly American spirit of resiliency."
Francis Scott Key memorial buoy on the Patapsco River marks the approximate location where he wrote the national anthem.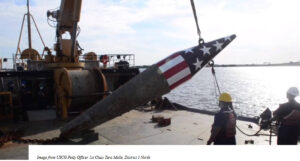 Youtube link:  Video setting the Francis Scott Key Buoy